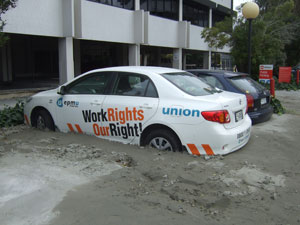 A magnitude 6.3 Christchurch, earthquake struck South Island, New Zealand, at 12:51 local time on 22 February 2011 (23:51 UTC on 21 February 2011).
Official figures reveal that there were 181 confirmed fatalities, over 7000 injuries and over 10 000 people were made homeless.
There was severe damage to the Central Business District (CBD) of Christchurch and the port town of Lyttleton.
A national state of emergency was declared; a first for New Zealand. As a result the CBD was evacuated and remained closed for over two months.
The earthquake epicentre was located in the Port Hills, 10 km south-east of the CBD and 5 km west of Lyttleton. The focus was very shallow at a depth of 5 km.
The earthquake was one of a series of aftershocks following the magnitude 7.1 Darfield earthquake of 4 September 2010, 40 km west of the city. The September 2010 earthquake caused moderate damage but no loss of life.
A blind fault
This area has a short but steady history of large earthquakes including events in 1888, 1929, 1968 and 2010.
The interesting — and devastating — thing about this earthquake is that the fault segment that ruptured was previously unknown (also known as a blind fault), it is a 14 km long, 7 km deep reverse fault which is oriented east–west with a southerly dip of 65 degrees.
John Berrill, an earthquake engineer from Canterbury , suggested 'that the rupture started at a 5 km depth and then "unzipped" upwards, generating multiple seismic waves aimed directly at the city'.
At least 170 landslides, mostly rock falls, affected 30 km2 of the Port Hills, the eroded flank of an extinct six million-year-old volcano.
Extensive liquefaction and lateral spreading was widespread on alluvial planes, estuaries, and earth embankments. This affected underground services, transport infrastructure and foundations. Further images taken by BGS geologist caught up in Christchurch earthquake
David Boon, an engineering geologist from the British Geological Survey, provided geotechnical and landslide expertise for the Earthquake Engineering Field Investigation Team (EEFIT) mission to the affected region.
The EEFIT team was led by Mathew Free of ARUP and included experts in structural and geotechnical earthquake engineering, GIS and remote sensing and special structures and infrastructure.
The team made a detailed survey of the damage, and how structures did or didn't perform during the quake, that included an assessment of the performance of any strengthening measures that may have been used on a structure.
The geological and socio-economic effects were also studied as well as disaster management procedures. Details can be found in Free et al., 2011.
Conclusions of the visit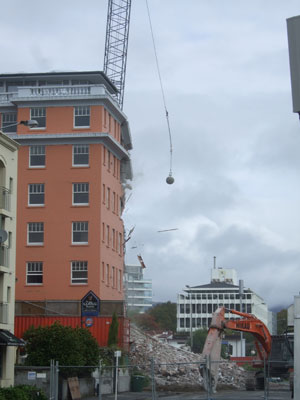 Several factors contributed to the exceptionally strong ground shaking and widespread liquefaction, these include:
the close proximity and shallowness of the earthquake epicentre/focus
the reverse fault which is aimed directly at the city
and the amplification of the thick sediments beneath the city which caused the widespread liquefaction
Many of the cities older buildings were vulnerable, notably that collapse of one pre-80s high-rise structure contributed significantly to the death toll.
Buildings that were well maintained and had suitable strengthening measures fared much better, sustaining only minor damage. Liquefaction caused many building foundations to fail affecting low, medium and high-rise structures.
These findings highlight the importance of implementing earthquake building codes to buildings that were built before they were put into operation. The potential for 'blind' faults should always be considered in earthquake hazard models.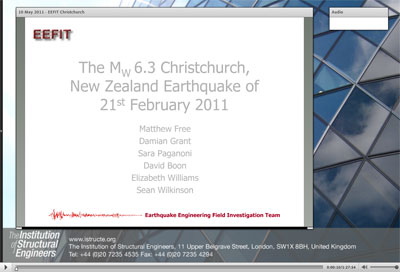 Contact
Contact David Boon for further information