| | |
| --- | --- |
| Date | 21 February 2011 |
| Origin time | 23:51 43.0s UTC |
| Lat/Lon | 43.600° South / 172.710° East |
| Depth | 5 km |
| Magnitude | 6.3 Mw |
| Locality | Near Christchurch, South Island, New Zealand |
The BGS detected a 6.3 Mw earthquake at 23:51 UTC on 21 February 2011 located near Christchurch, South Island, New Zealand.
Reports indicate that at least 154 people have been killed and many are still trapped under rubble as a result of buildings collapsing during the earthquake. Many of those killed are as a result of debris falling and crushing the occupants of two buses in Christchurch.
This latest shock is much closer to the main population centre of Christchurch than the magnitude 7.1 earthquake that occurred on 3 September 2010, approximately 40 km west of the city, and caused significant damage.
'This earthquake produced exceptionally high ground shaking, more than the buildings were designed for and damage has been extensive.'

The Christchurch event occurred during the daytime, which increased the number of fatalities, and the buildings weren't designed for the level of shaking that occurred. Many aftershocks have been reported; the largest at 5.5 Mw.
'This Christchurch earthquake is the most recent of an almost continuous series of aftershocks extending east towards Christchurch since the Darfield earthquake in September.'

The deadliest earthquake in New Zealand was a 7.8 event that occurred at Hawkes Bay in 1931; leaving 256 dead.
'Parts of Christchurch are built on reclaimed swamps, sand dunes and river deposits. These areas are likely to have experienced intense and prolonged ground shaking. The combination of the loose sandy soils and a shallow water table make the soils under Christchurch particularly prone to liquefaction. This means that during intense shaking the soils can behave more like a liquid than a solid, causing subsidence and damage to transport networks and utilities. To the east of the city landslide debris has blocked roads hampering the relief effort'.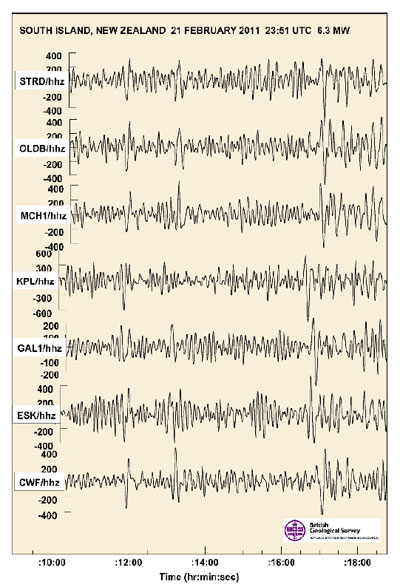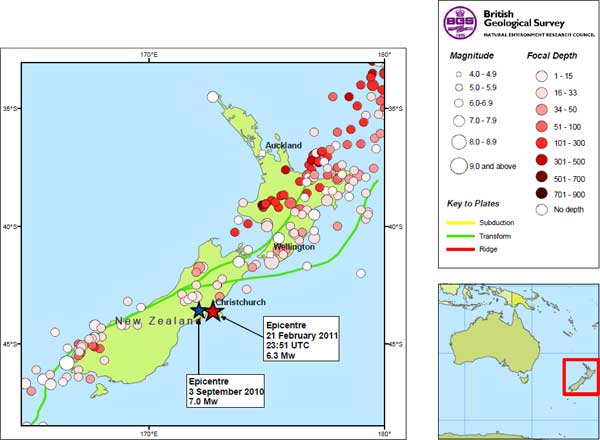 Contact
Contact Brian Baptie for further information.